The Goals
These were our main goals for this redesign:
1. Make it easier for users to take action
2. Increase the clickthrough rate by 10%
3. Rework messaging to make it more relevant to the target audience
To ensure that we were taking all possible scenarios into consideration, we put together a mind map of our existing emails to visually organize all that information. Doing so helped us understand how we can section this project out into phases. And that's exactly what we did. In Phase 1, we tackled transactional product-related emails such as 'You've received a signature request,' 'Please verify your email,' 'Update Billing info,' and so on since these are the most commonly sent emails. In phase 2, we'll work on a redesign for our Marketing/promotional emails.
Once we had a zoomed out view of what our current email infrastructure looks like, it was time to zoom in and take a look at what the primary purpose of these emails is. After some research and brainstorming, we came to the conclusion that it's safe to divide our transactional emails into two categories — Actionable and Informational.
The main reason for dividing the emails into these two categories was to make information much more accessible than it previously was. About 40% of our emails require the user to take some sort of an action. The way the old layout was designed, the primary call to action was always buried below the fold under content that may or may not be useful to the receiver. We wanted to change this. After discussing several solutions, sketching out a few possibilities, we landed on two layouts that work for every scenario while addressing our concerns. Here's the final result: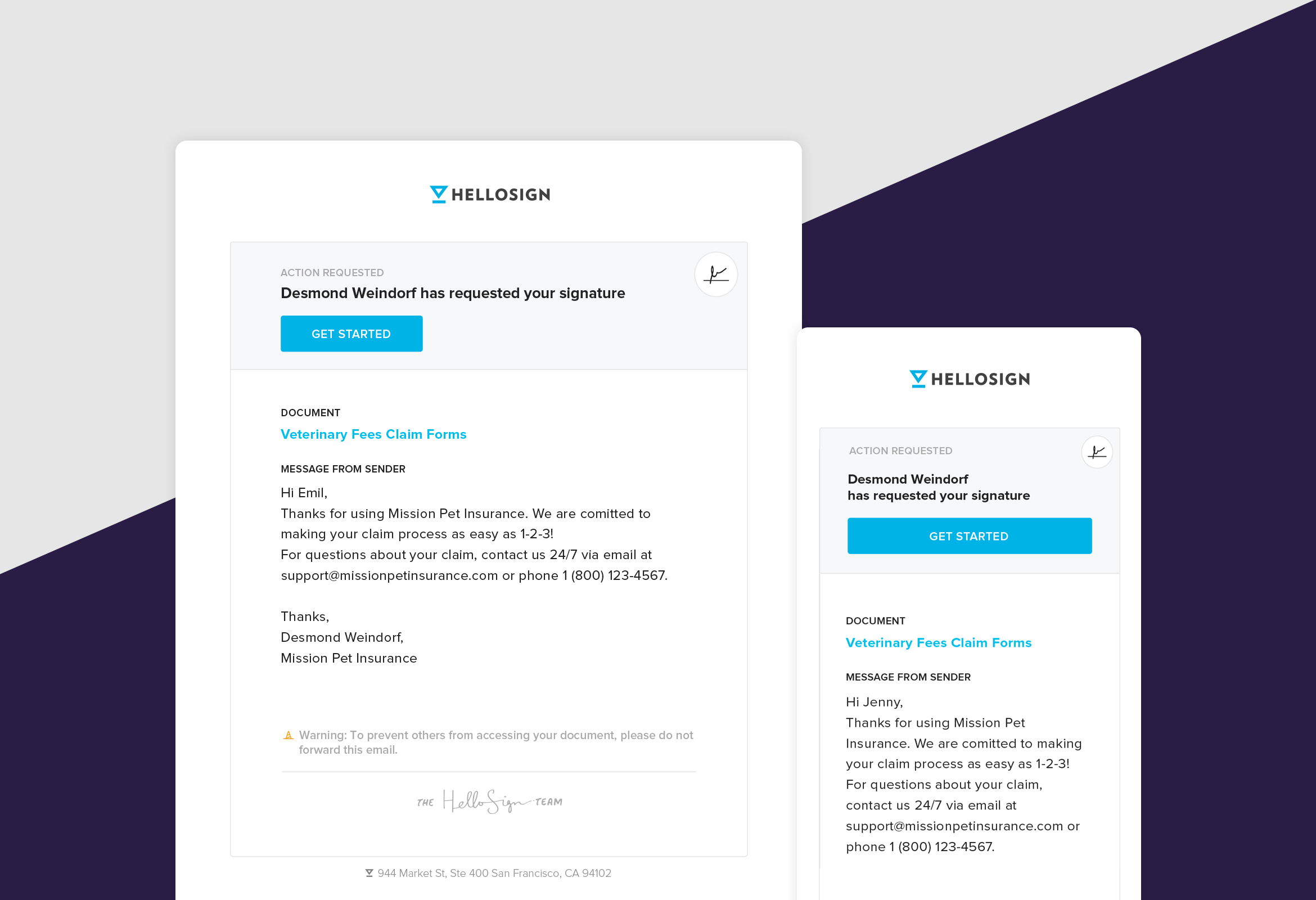 Actionable Emails
Actionable emails, as the name suggests, are emails that require some type of an action from the receiver, urgent or non. We have a whole bunch of these. It was crucial that we addressed this category of emails since there are thousands of transactions happening every day. Keeping that in mind, we wanted to give our users easy accessibility to the actions that they need to take multiple times a day, in some cases. A few examples of actionable emails: 'You've received a signature request,' 'Please verify your email,' 'Your credit card is about to expire,' and so on.
Simply by changing up the hierarchy of information and CTA, we were able to surface the most crucial bits at the top. The 'action required' label lets the receiver know that they need to do something. The subject line just below the label lets then know what it is that they need to do and finally, the CTA helps them take action.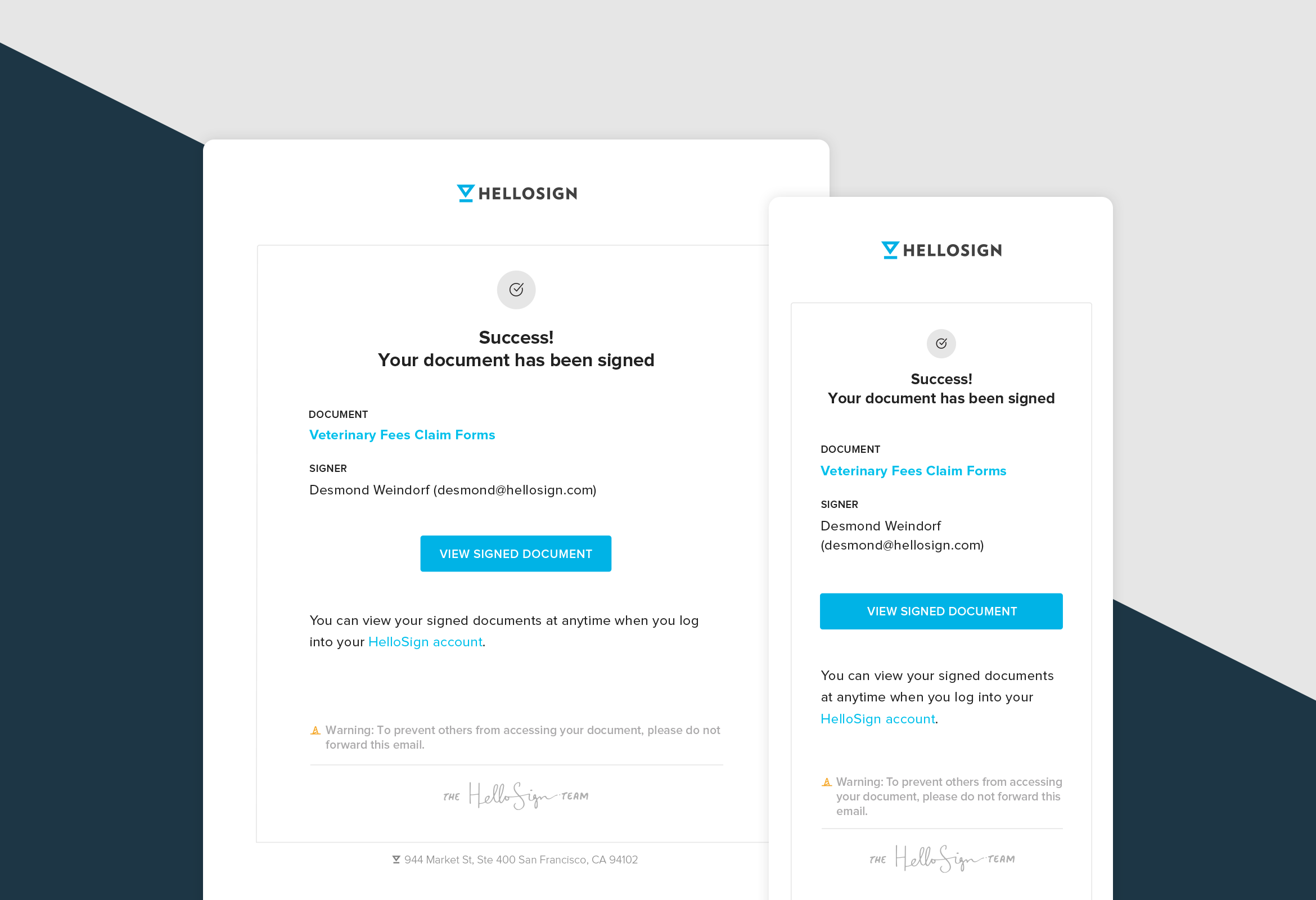 Informational Emails
Informational emails, aka FYI emails, are ones that are purely relaying some sort of message to the user. There's nothing that the user needs to do, these emails are just to convey information. They can be confirmations, validations, and notifications. A few specific examples of these emails are 'Your document has been sent' (after you send a signature request) 'You have successfully signed your document,' and 'Your document has been viewed'.
This layout was designed to let the receiver get the most relevant information in a gist, as quickly as possible. Which is why it was important for us to extract the most valuable information in the email (like 'requester's name' and 'document title') and present it in an easy-to-read format to save users the time and effort of scrolling through paragraphs to get the same info.
Apart from making it easier for our users to distinguish between actionable vs non-actionable emails, having the two pre-defined templates will also significantly cut down on design and dev efforts. And this, in itself, was a big win for us.
Once we had two solid base templates to work with, we began sorting all 35 emails into the right category and translating content to the appropriate layout.
We're still in the process of tracking click-through rates for our new layouts but we're confident that the fresh, new design has made the information that our users need readily available for them.