Creative exercises
As part of my research, mainly to get to know the existing brand better, I decided to get our co-founders in a room for a few creative exercises.
Exercise #1:
Personify the brand. The quickest way to identify your brand's personality is by creating a short story about your brand. Personifying it will help determine a few things about the brand such as your target audience, brand voice, messaging, etc. This will be extremely useful in the later phases of brand development.
Exercise #2
See your brand from a different perspective. We answered questions like 'If HelloSign was a car, which car would we be?,' 'If HelloSign was an animal, which animal would we be?,' 'If HelloSign was a city, which city would we be?' and so on. Doing this helped us see our brand in a different light. Since we're a enterprise software company, sometimes it's difficult to realize what our brand traits are. This exercise helped us put those traits into easy-to-follow descriptions. It helps materialize how we perceive the HelloSign brand.
Exercise #3:
Come up with a tagline & an ad campaign. This one's pretty straightforward. Participating in this exercise made it easy for us to pinpoint some of our strengths and weaknesses as a brand. It also helped us reiterate our strongest selling points, which is always useful to be reminded of.
The purpose of these exercises was to dive deeper into their minds and understand how they perceive the brand. Doing so would ultimately help me determine how much brand equity we wanted to keep and how much of it we could afford to lose.
Creative Brief
Once we were all well-acquainted with our existing brand and got a little glimpse of what the rebrand is going to look like, the next step was to create a comprehensive creative brief that would outline all the requirements and deliverables for the project. In the Creative Brief, we covered topics like Our Mission, Target Audience, Project Scope, Unique Selling Proposition, Competitors, Inspiration, etc.
This step is important for 2 main reasons:
• To make sure everyone involved is on the same page from the beginning.
• To keep everyone on track as the project progresses. If all the goals are documented ahead of time, decision making becomes much easier.
Brand Identity
With a solid understanding of what our brand stood for, it was time to dive into what the new HelloSign brand should look and feel like. We started off by taking a closer look at our logo to see how it defines our brand. Since this was the first major brand development effort since the company was founded, the team agreed there was little danger in losing existing brand equity when it came to the logo.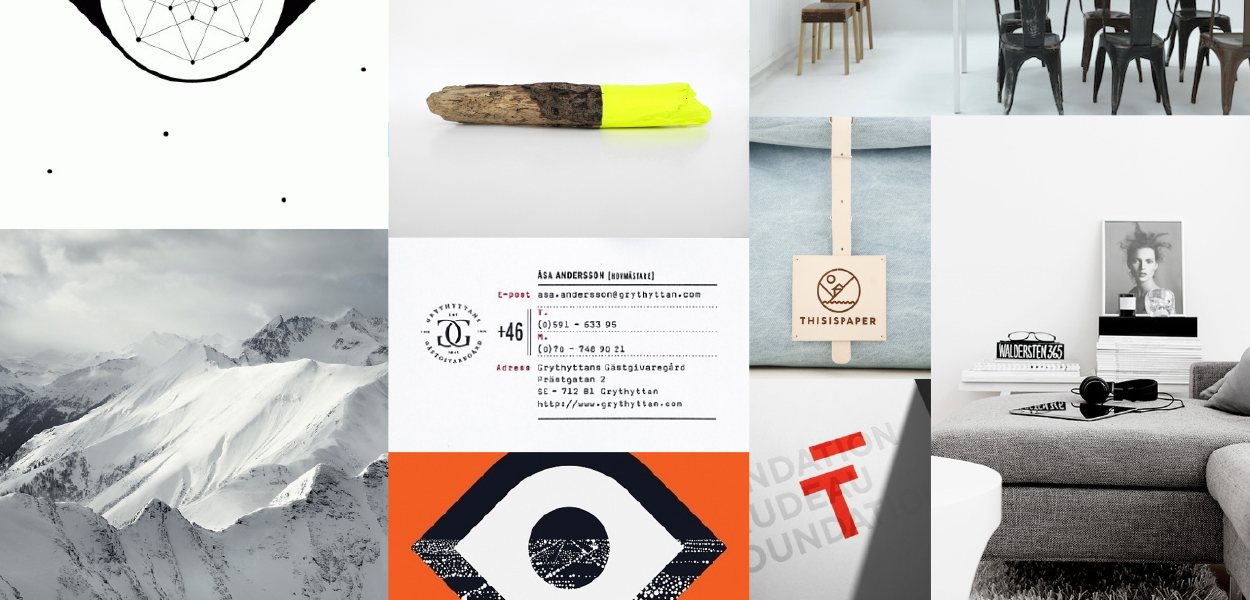 Moodboard
As part of the research phase, I also worked on creating a mood board that was a visual guidepost. The mood board was created keeping in mind everything that I had heard so far about our current brand and our hope and aspirations for the redesign. The mood board felt like a great blend of some of the old charm mixed with a fresh, new perspective. It provided enough inspiration to start visualizing what the brand could be and the story it would tell.
The goals for the logo redesign were simple:
1. The mark had to be representative of what HelloSign does and stands for.
2. The mark had to be iconic and recognizable.
3. The logo had to be legible in black & white and at a small size. It has always been my belief that this is a sign of a successful logo.
With these goals set and agreed upon by the team, it was time to get to start creating.
The Chosen One
After many rounds of explorations, we chose this bold and delightfully simple mark paired with crisp typography that speaks well to who we are and what we stand for — friendly, secure, and smart.
👆🏽 A few other options that we considered.
👆🏽 A few of the many color & typography studies we did before making a final decision on our typography guidelines and color palette.
Visual guidelines
Once we solidified our brand and typography guidelines, we took them out for a test drive by applying the rules to some of our Marketing assets. The main takeaway from our branding efforts so far was to keep our aesthetic clean, simple, and delightful.
Iconography & illustration style
Our iconography and illustration style followed the three commandments that we had set. We experimented with a few different styles before settling on something that's clean but fun/vibrant at the same time. Our color palette has been evolving with our illustration style as well.
----
After 4 months of efforts, we came out with some great results that the entire team could get behind. The folks over at Brand New even did a little write up about the rebrand.